Spending your summer vacation in a private villa is one of the best decisions you'll ever make. Yet, it's only the first step in making your holidays unique and unforgettable.
Before booking your luxury vacation residence, you should explore your options and make sure your final choice perfectly matches your tastes and preferences. Just check out Olive Villa Rentals' diverse offered experiences and ask yourself: what type of villa person am I?
High End

: more an experience than a villa
Just think about it! We only spend a small fragment of our lifetime on vacation, and in most cases, all we expect is to get enough rest and enjoy the company of friends and family.
But what if we could have all that in a brand new context where vacation is more than a break from our daily routines; it's an exciting, wholesome, and rejuvenating experience. In any one of Olive Villa Rentals high end villas, you won't just rest; you'll get pampered. You won't just spend quality time with your company; you'll share a personalized hospitality experience tailored to your absolute demands and wishes!
Top High End destination:

Mykonos
If you want to experience the luxurious and vivid side of Greece, Mykonos is a no brainer. Also known as "the island of the winds", it is truly the cosmopolitan center of Cyclades! Beautiful landscapes of golden beaches, blue waters and white traditional windmills can provide you with the authentic Cycladic beauty, whilst high end boutiques, gourmet restaurants and the most famous nightclubs await those seeking a lively, energetic atmosphere.
Our Villas in Mykonos are luxurious, quiet retreats where you can either relax in complete privacy, or organize memorable parties and gatherings.
Extra tip: Ask us to help you organize the perfect event for you at your luxury villa, as a part of the Olive Villa Rentals personalized services.
Our picks: High End Villas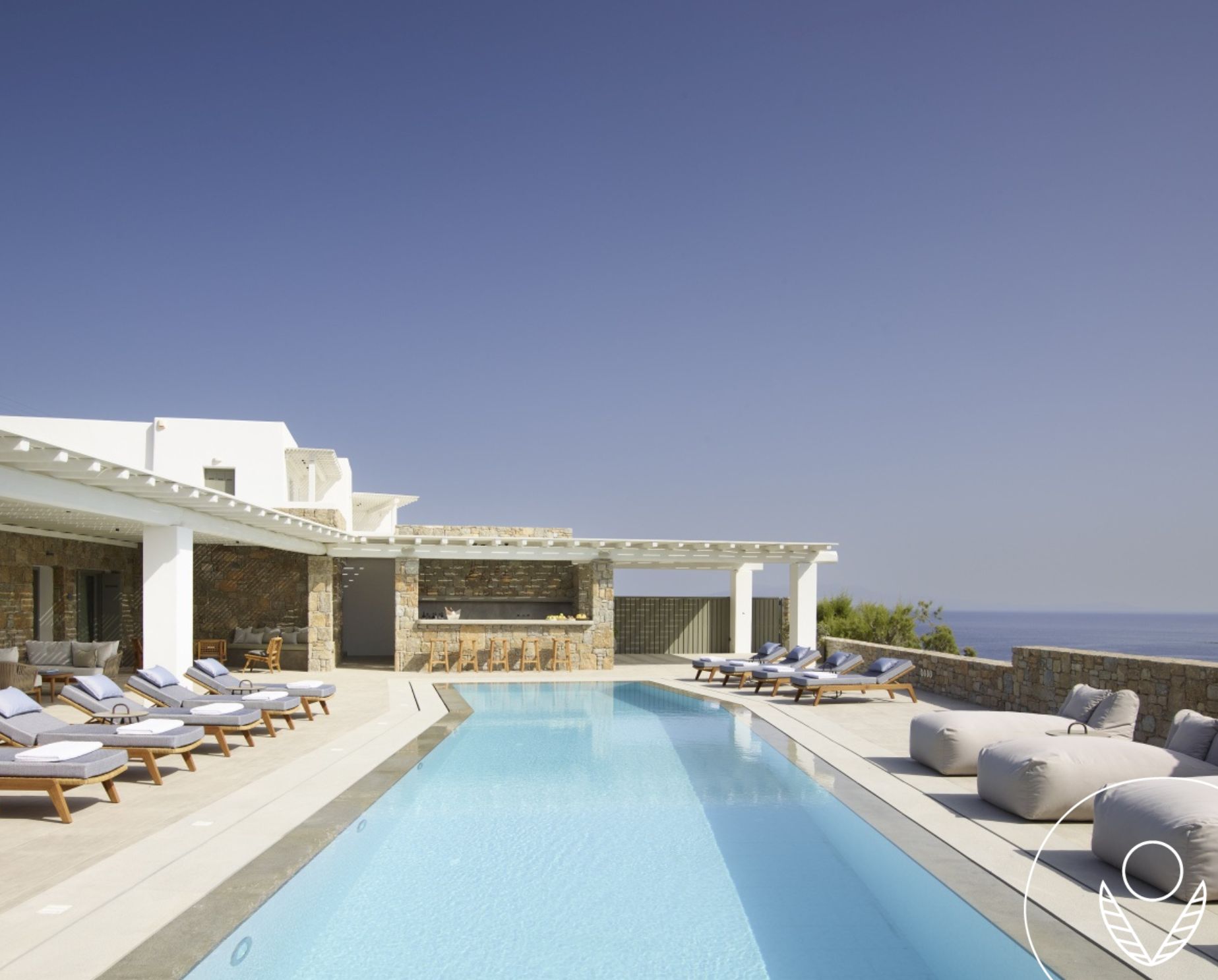 The wonderful Villa Grace develops on two levels and invites you for a luxurious and peaceful summer experience. A private infinity pool, surrounded by seating and lounge areas, alongside the spa area and the private gym offer a memorable high end experience in the most cosmopolitan Greek island.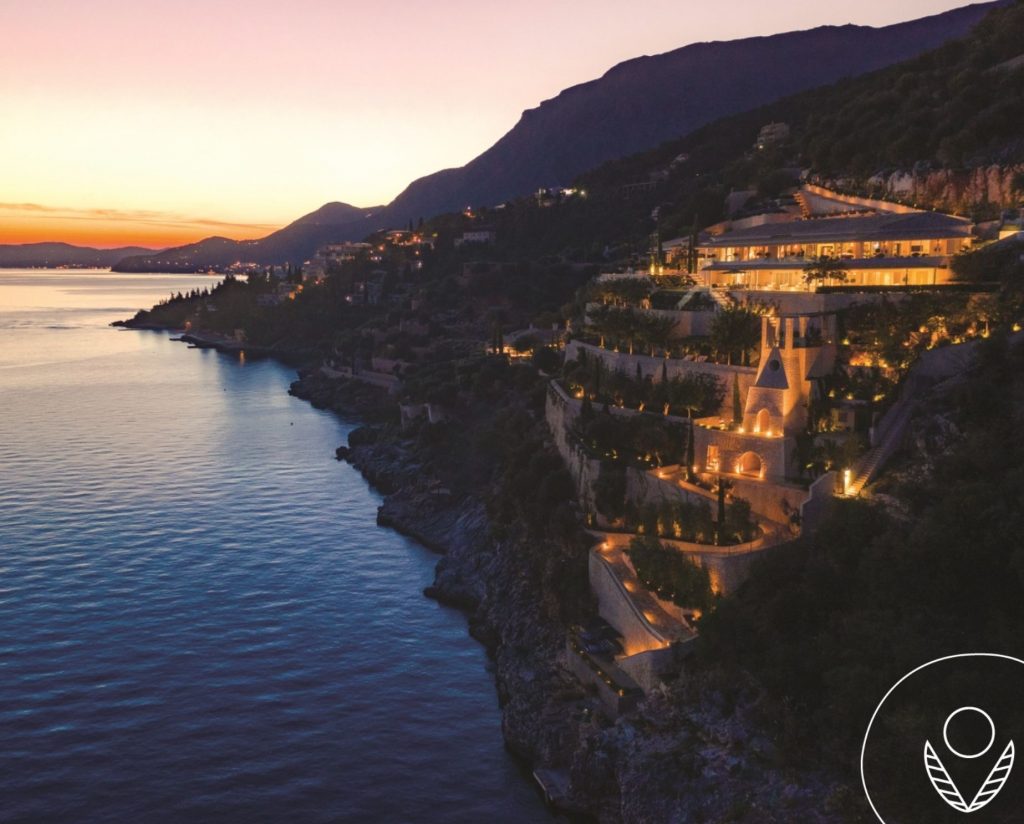 Ideally located in the cosmopolitan Corfu Island, Villa Sublime is a spectacular hillside villa with an unparalleled 180-degree impeccable view of the Ionian Sea. The high-end luxurious Villa Sublime is truly an earthly paradise of carefreeness and serenity for its guests providing the perfect retreat and a classic Mediterranean escape in the lush hills of the emerald island of Greece.
Beachfront

:

swim in the sea, bask at home
Are you one of those vacationers that spend most of their holidays on a sunbed or in the sea? If so, why not lodge on the seaside to save more time for basking and swimming.
Olive Villa Rentals offers a variety of beachfront luxury properties, only a few steps away from heavenly beaches with crystal clear waters. That way, you get everything our private villas have to offer, plus the one true infinity "pool", the sea, at your feet. It's a decision you'll thank yourself for whenever you enjoy a quick refreshing swim before breakfast or sip on your nightly cocktail while listening to the melody of the waves.
Top Beachfront destination

: Paros
If you are a beach lover, Paros island should definitely be at the top of your list. A perfect combination of cosmopolitan lifestyle and seclusion has made it one of the most popular Greek summer destinations. But what makes Paros truly special is the variety of stunning sandy beaches, some of which are considered to be among the best beaches in Greece. Watersports enthusiasts arrive every year to enjoy Paros' big waves that are ideal for windsurfing, kitesurfing, waterski etc. However, if you are seeking some peace and relaxation, there is a wide selection of beaches ideal for unwinding, sunbathing and hanging out by the beach bar. Our Villas in Paros offer the lovely Cycladic white-washed aesthetic along with easy access to beautiful beaches and other top tourist destinations.
Extra Tip: Book an amazing watersport experience as part of the Olive Villa Rentals personalized services.
Our picks: Beachfront Villas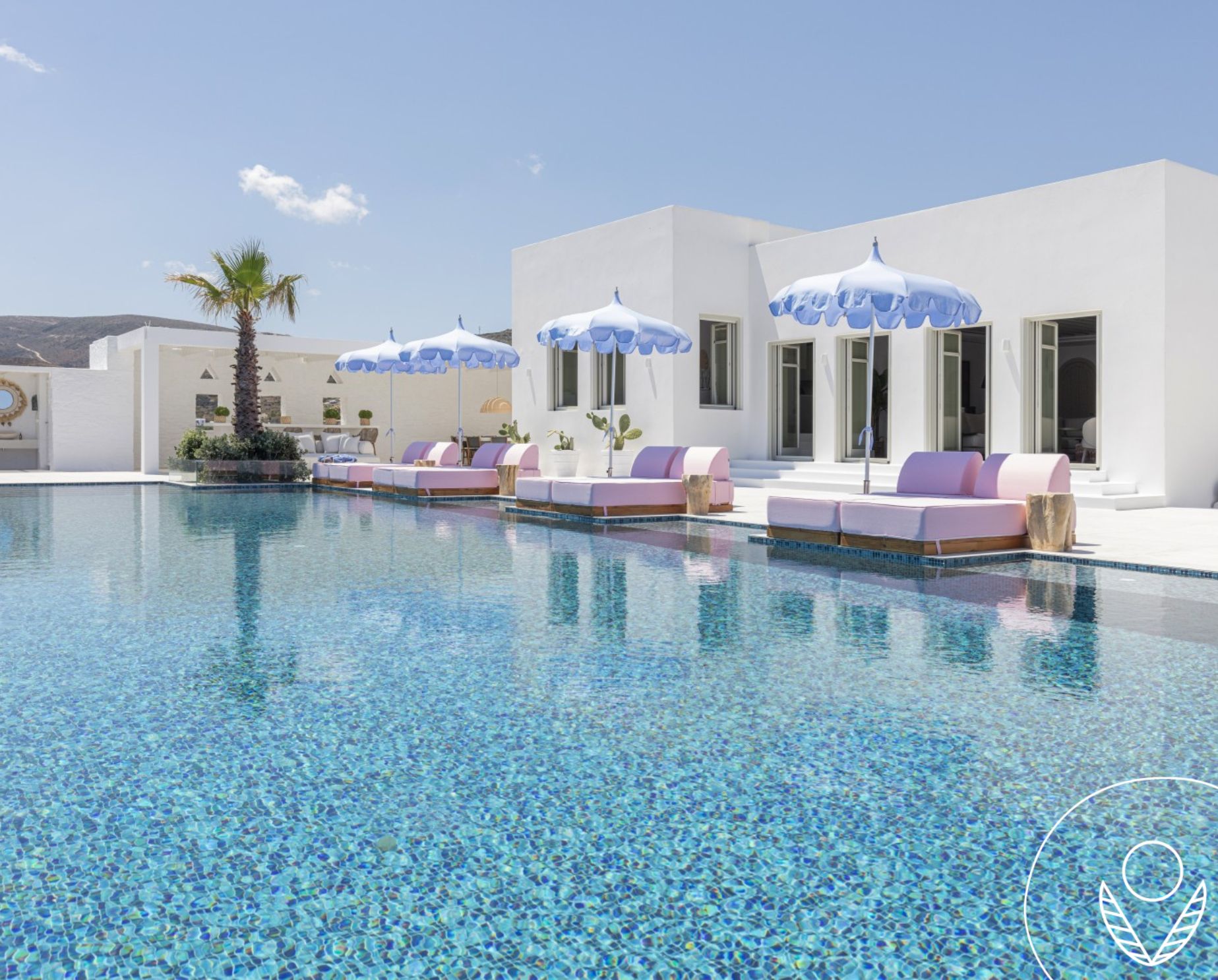 Located in the beautiful and secluded Parasporos area in Paros island, Villa Skyness is a luxurious and elegant property to unwind yourself in a large infinity pool with a stunning 180° sunset sea view. Elegant interiors, splendid outdoor areas and direct access to a beautiful secluded beach await you for a vacation full of swimming and relaxing.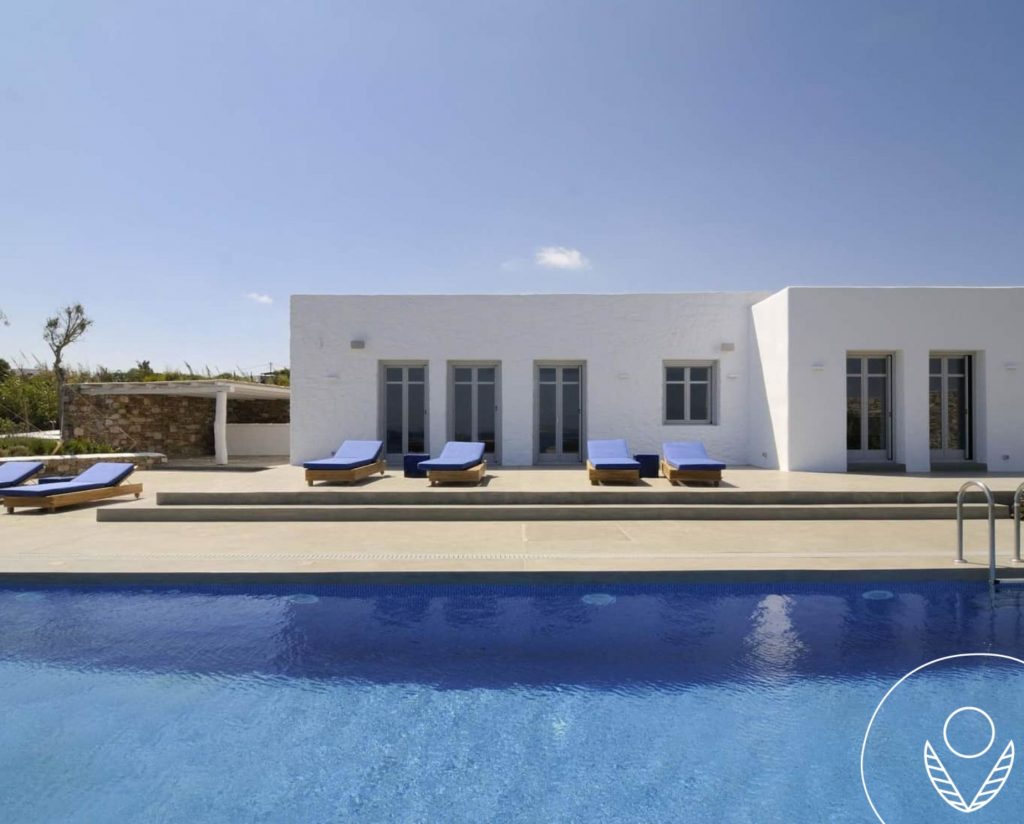 Built on  a site with lush greenery in the majestic island of Antiparos and with direct access to the beach, the villa offers its guests the opportunity to swim privately in the shaded and protected area below the house. Breathtaking sea views, elegant interiors and a private infinity pool will elevate your stay.
Family

: the art of feeling at home
Going on vacation with your family is about more than just spending the holidays at some nice place. It's about strengthening bonds and creating precious memories with your loved ones.
Olive Villa Rentals offers a broad selection of luxury residencies ideal for families. With spacious rooms and common areas where everybody can relax or enjoy a recreational activity, plus safe, state-of-the-art pools and playgrounds. Also, a full range of family-oriented services like babysitting, in-house chef, and organized trips that will take your mind off everything but having an unforgettable time with your kids.
Top Family destination

: Spetses
The island that travels you back in time: Old harbors and picturesque landscape, where private cars are not allowed. Spetses is the perfect destination for families who are looking for peace & quiet, along with fun activities. Stroll through the island's cobbled streets while admiring the romantic traditional architecture, explore the various historical sites and swim at the many lovely secluded beaches that are accessed only by boat.
Our charming Villas in Spetses offer mesmerizing views of the Saronic Gulf and become the perfect getaway for a holiday full of history, culture and leisure!
Extra Tip: Book a private tour as part of the Olive Villa Rentals personalized services and visit all the must-see spots with the help of the most experienced professionals.
Our picks: Family Villas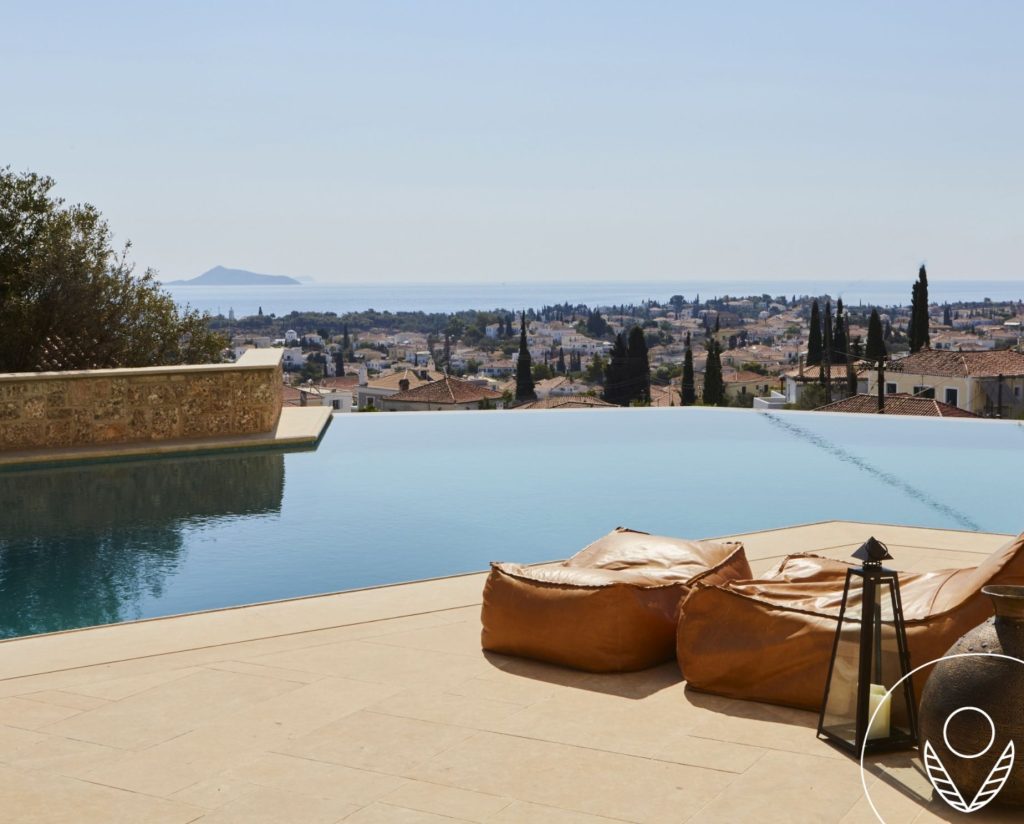 The newly constructed (2022) Villa Calisti is ready to welcome its guests for a luxurious and peaceful accommodation experience in Spetses island. Majestic views overlooking the Argosaronic Gulf, cozy and elegant indoors, as well as spacious outdoors with a private swimming pool make Villa Calisti the ideal family destination.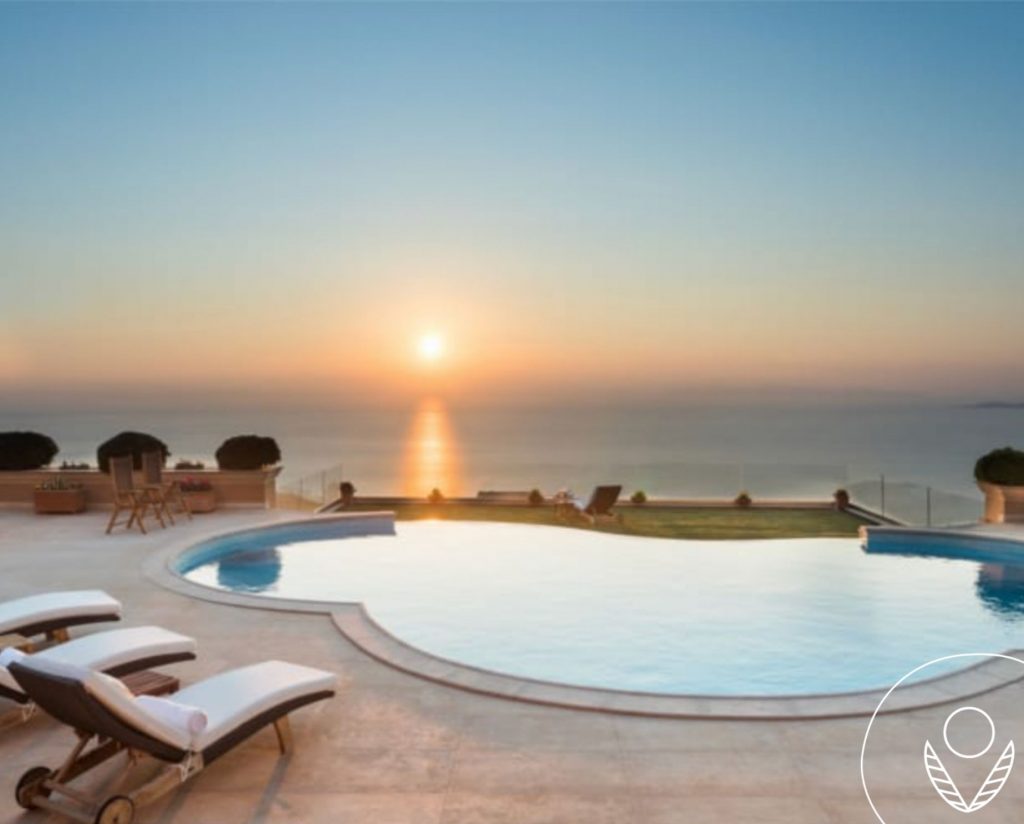 One of the most predominant villas in Athens located in Saronida Panorama residential areas. The villa's construction, decoration, and all amenities provided, are all of the highest standard, destined to service the most demanding guests. Enjoy a delicious home breakfast at the veranda, a dinner alfresco or a workout session at the private, fully equipped gym with the hammam.
Secluded:

privacy is the greatest luxury
You don't have to be a celebrity to yearn for uninterrupted peace and quiet on your vacation. We all have the right to take a break from people and make ourselves invisible from time to time.
Many of the Olive Villa Rentals villas are located in secluded spots far from crowded beaches, popular destinations, and indiscreet eyes. Away from all the noise and whatever stresses you daily, you can enjoy all the amenities at your own pace in a completely relaxing, naturally serene environment. And take full advantage of that rare opportunity to unwind, clear your thoughts, and reimagine your life after the holidays.
Top Secluded destination: Skopelos
Also known as the island where the Mamma Mia! Movies were filmed, Skopelos is the perfect example of a Greek secluded gem. A landscape that is out of the ordinary, with lush green forests, azure waters and golden beaches awaits you to live the Greek summer dream. Our Villas in Skopelos are influenced by the island's traditional architecture and offer privacy and serenity amongst beautiful sites of unspoiled natural beauty.
Extra Tip: Book a private boat trip and enjoy Skopelos' stunning waters with Olive Villa Rentals personalized services.
Our picks: Secluded Villas
Situated in the south part of Skopelos, Villa Cylena offers stunning sunsets, and unobstructed views of the sea and several Greek islands. Following a path down the cliff, around 100 steps, leads you to a semi-private beach, ideal for isolated relaxation, and summer holidays away from crowded beaches. In other words, the ultimate secluded experience!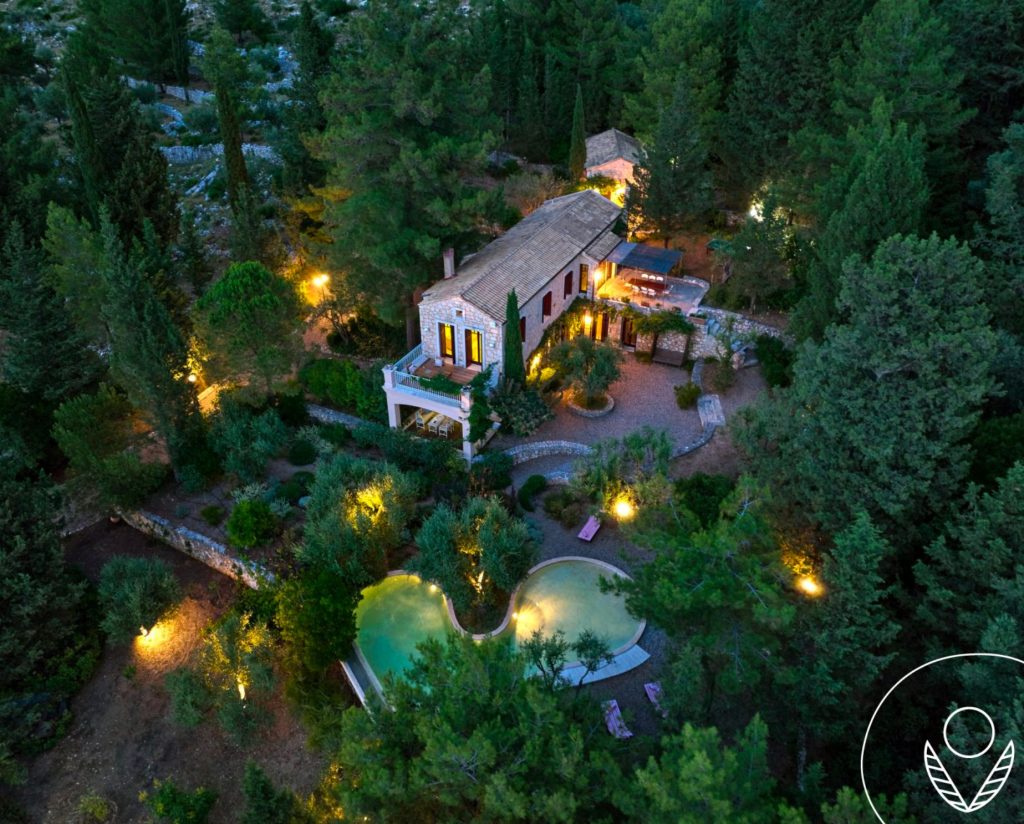 Located in a secluded beachfront location inside seven acres of private gardens and surrounded by an unspoiled pine forest, the villa is truly the secluded gem of Ithaca island. Retro design, stunning sea views and a unique lake-looking swimming pool create a heavenly setup.